When I want to make something special for my husband Randy, I make him my Crispy Grilled Avo-Cheesy Sandwich. Randy says he gets sad every time he gets down to the last two bites because he doesn't want the sandwich to end!
Try my delicious version of this classic comfort food that's both satisfying and nutritious.
INGREDIENTS
4 slices of Oroweat Oatnut Bread
1 to 2 tbsp. of Earth Balance Original Buttery Spread
2 thick slices of lean honey ham or oven-roasted turkey
4 slices of 2% White American Cheese Singles
1 large ripe avocado, thinly sliced
1/2 teaspoon of good quality olive oil
PREPARATION
Place a non-stick skillet (lightly coated with olive oil) on medium heat for 1 minute.
Place the ham or turkey slices on the warm skillet until lightly brown on both sides. Set aside.
Smear one side of each bread slice with the buttery spread. Make sure to cover the edges of the bread! This makes for a crispy sandwich!
Build your sandwich. I like the sandwich in this order:

Bread (buttered side facing out)
Cheese
Ham or Turkey
Avocado
Cheese
Bread (buttered side facing out)

Place your sandwich on a hot non-stick skillet.
Flip the sandwich with a large spatula until both sides are browned to your liking.
NOTES
I use Oroweat's Oatnut Bread because it has no trans fat and I like the bread's texture from the hazelnuts. You can also use 7 Grain or 12 Grain bread.
I am so happy to have found Earth Balance products! I really love their Original Buttery Spread. It's non-dairy, lactose-free and gluten free but it's still creamy with that rich buttery taste and also very easy to spread.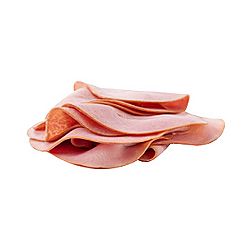 Spend the extra couple of bucks on freshly sliced ham or turkey from your supermarket's deli. You can certainly taste the difference in quality!
I prefer using 2% White American Cheese because it melts so nicely. It's perfect if you want that soft velvety texture on your grilled cheese sandwich!
Learn how to safely cut, peel and slice an avocado here.
DISCUSSION:
What are your favorite variations of the classic grilled cheese sandwich?
What dishes do you make that your family just can't get enough of?
Share your story, your story matters.